2017 GHS Graduation Breakfast, Reserved Seats And Parking Spots Auction!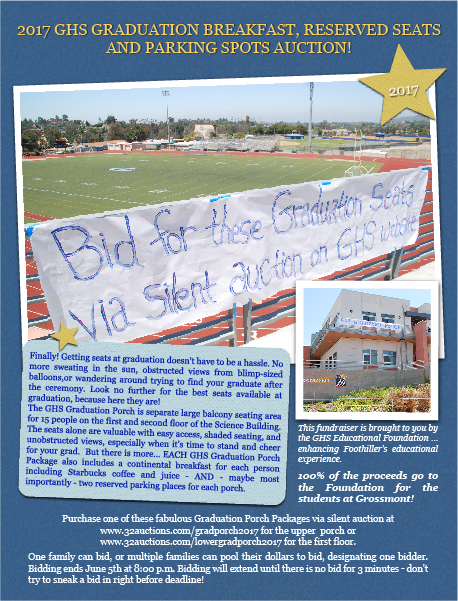 Finally! Getting seats at graduation doesn't have to be a hassle. No more sweating in the sun, obstructed views from blimp-sized balloons,or wandering around trying to find your graduate after the ceremony. Look no further for the best seats available at graduation, because here they are! The GHS Graduation Porch is separate large balcony seating area for 15 people on the first and second floor of the Science Building. The seats alone are valuable with easy access, shaded seating, and unobstructed views, especially when it's time to stand and cheer for your grad. But there is more… EACH GHS Graduation Porch Package also includes a continental breakfast for each person including Starbucks coffee and juice - AND - maybe most importantly - two reserved parking places for each porch.
Purchase one of these fabulous Graduation Porch Packages via silent auction at www.32auctions.com/gradporch2017 for the upper porch or www.32auctions.com/lowergradporch2017 for the first floor. One family can bid, or multiple families can pool their dollars to bid, designating one bidder. Bidding ends June 5th at 8:00 p.m. Bidding will extend until there is no bid for 3 minutes - don't try to sneak a bid in right before deadline!