Welcome Back Foothillers
The School year is off and running and the Foundation is doing it's part! Here are the Principal, School board and others enjoying the foundation sponsored back to school teacher appreciation luncheon!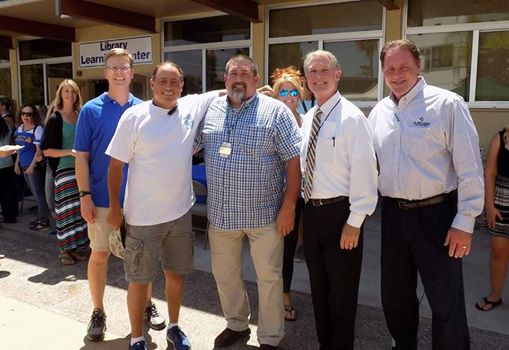 We have the parent back to school night August 31st - we hope to see you all there! We need some help staffing it also.
Last year the Foundation was able to give out 7 Scholarships to graduating seniors! This year we hope to give out more with your help!
Last year we also provided recording equipment and guitars for the music department, a simulated Earth crust / computer model (super cool - pictures to follow) for the science department, sponsored "Girls Rock," the female empowerment program GHS puts on, Provided 160 movie tickets for star students, assisted on the cost of AP testing, several campus improvements and more!
Get involved this year (Here or Here) and make a difference in the young Foothiller's lives! This time goes by in a blink and you will never regret pitching in and being a part of it.