Foundation Funds Needed Programs at Grossmont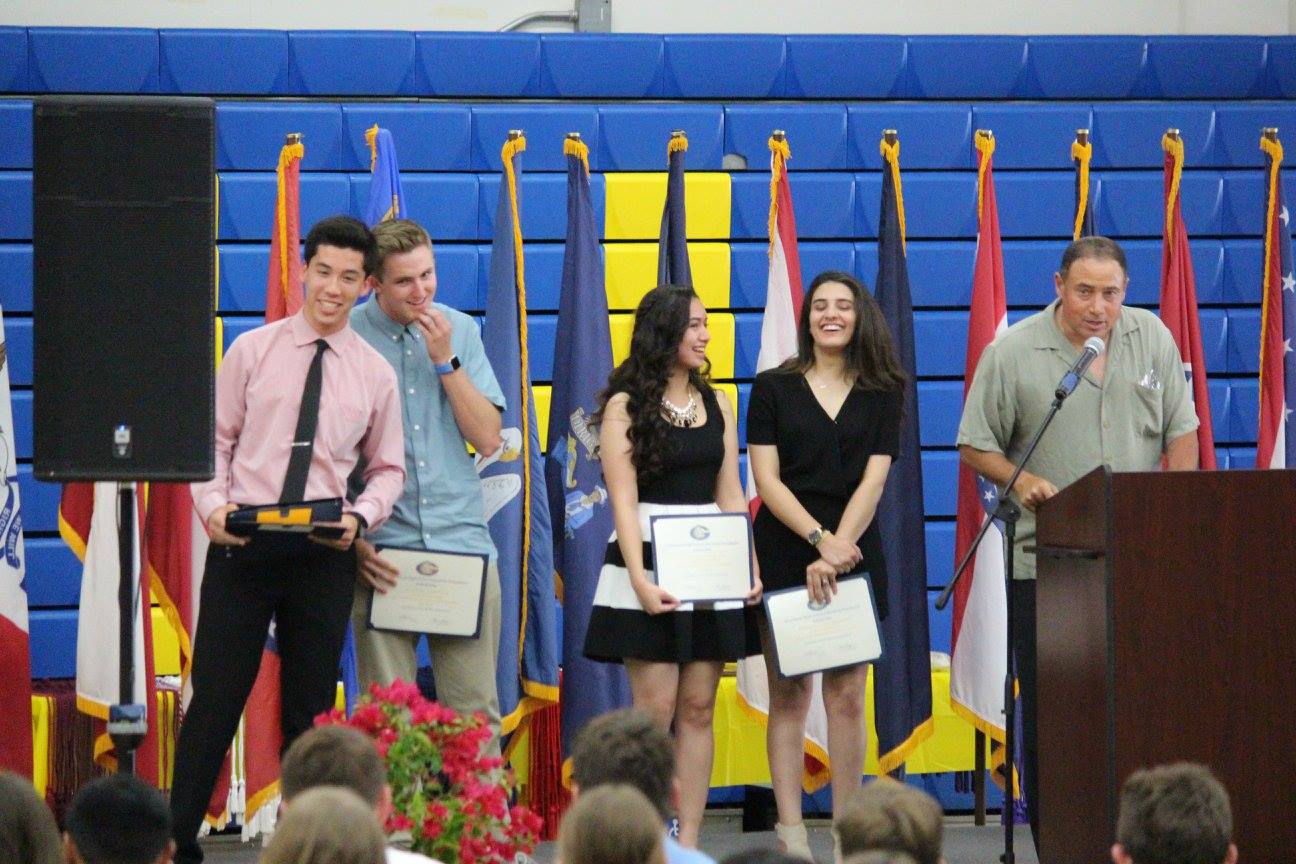 In 2008, a dynamic group of parents, staff, alumni, and community members committed themselves to improving Grossmont High School through the GHS Educational Foundation, a nonprofit 501-C3 entity.
The purpose of the Foundation is to enhance the overall educational experience of the students by raising funds to support the needs of the school. The Foundation encourages parents, students, and alumni to "Take your memories…Leave your footprints." Appropriately, footprints are the Foundation logo.
During the 2014-2015 school year, the Foundation funded "Girls Rock" a female empowerment seminar for young female students in the school district, a new curtain and short throw projector for the drama department, much needed training equipment for the track team, modernization of campus signs, as well as partial funding for a new balance beam for the girls gymnastic team.
Yearly, the Foundation funds teacher appreciation luncheons and coffees as well as Monthly Departmental Star Students in the form of movie tickets, this year rewarding 160 students.
In 2010, the Foundation challenged itself to create a $100,000 Endowment Fund. Since then donors have commemorated their years at GHS, their families, their graduating classes, GHS programs, and staff members through the purchase of a gray tile located on campus. This historic campaign currently has 270 donors: Foothiller Founders whose 8x8 inch tiles are located on the 1937 Old Gym steps, and Foothiller Friends whose 4x4 inch tiles are located in the Humanities Building walkway.
The $70,000 (as of June 2015) is invested with the San Diego Foundation. The yearly interest from the fund is used to improve the classroom experience for students. This year's interest funded 4 teacher mini grants totaling over $4,000: Jeff Lee's augmented reality sandbox to duplicate the Earth's dynamic crust for Chemistry students, a bus for Mike Lopez' and Mike Holcomb's AP students' field trip to the zoo, Ross Bartell's Cross Country and Distance Runners' training equipment, and Jeremy Cooke's purchase of Yamaha classical guitars for the Guitar students.
An annual Foundation sponsored fundraising event is the spring Rock and Roll Dance, held in conjunction with campus athletic teams. Also, for several years, the Foundation has produced a twice a year newsletter which shares current Foothiller campus news, Foundation news, mingled with articles reminding readers of Grossmont's historic 95 year old past.
Another annual event is the awarding of senior scholarships of $500 at Senior Awards Night. The six recipients of this year's seven scholarships are Community Service: Jazmin Morales; Alumni: Jacob Niskey; Athletic Challenge Overcome: Daniel Valoria and Ashlynn Jimmerson; Academic Improvement: Nadeen Allah Werdi; Ron Murphy Memorial Scholarship: Jake Harr and Daniel Valoria.
Tony Lawrence, Foundation President, urges, "We need your help to do more! We want to give more scholarships, more teacher grants, more everything! Get involved; donate money or time so we can continue providing an exceptional Foothiller experience for our kids! It is great for the kids and rewarding to know you helped this generation of Foothillers!"