At GHS, the Sky is the Limit!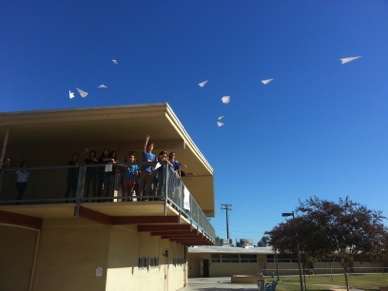 It's hard to believe, but the 2014-2015 school year is two-thirds of the way through the first semester, and the Thanksgiving break is just around the corner. However, with construction underway on the final phase of improvements to the GHS campus, a successful Homecoming celebration completed, a new and improved system for communicating with parents called Infinite Campus, and more students than ever attempting the honors, career technical education, and AP courses that lead to college and career success ... the sky is the limit at GHS!
Pictured above, students from Rob Ridgway's Calculus BC class recently experimented with flight and the differential between the pressures acting on the top and bottom of the wings. Students carefully measured each plane's wings and performed complex calculations prior to launching their entries into the air. The winner for maximum distance was Ashley Schwartz and Sierra Orsinelli-Rivers took first for maximum air time.
Mr. Ridgway is just one of the many excellent AP teachers at GHS who combine traditional learning with hands-on experimentation in order to make challenging content come alive for students. The history and current status of Grossmont's impressive AP and honors program is outlined on the next page. Throughout the newsletter, please read about the activities and achievements of other GHS students, as well as news from the Alumni Association, the GHS Museum and the GHS Educational Foundation. Though we're well on our way, the sky is the limit!